Ready To Switch Business Water Suppliers? 
Great Business Water Rates Are Just A Few Clicks Away 
Switching business water suppliers has never been easier. With no obligation to switch, 60 seconds to grab an online quote and up to £450 in savings to be made, what have you got to lose? 
Compare Water Deals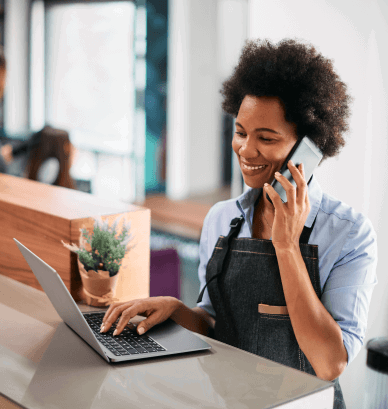 Business Water Rate Comparison Made Easy
Answer a few questions so we know exactly what you need.

Our team of commercial water experts will provide you with a tailored quote. 

If you decide the deal looks great, we'll help you change water supplier.
Understanding Your Business Water Bill 
There's much confusion about how business water rates are set and reviewed. So clarifying the way things work helps ensure you're not paying more than you have to.
The government regulator Ofwat reviews water rates each April – using certain criteria, including wholesale water prices. Sound familiar? The water market operates in a similar way to energy despite its differences. 
We take the confusion away from the switching service - no jargon, no lengthy process, just a simple and straightforward business water comparison that offers great rates and excellent service. 
Here are some of the things you may find on your business water bill: 
SPID (Supply Point ID) - a ten-digit code used by water suppliers to identify your businesses water consumption. You will likely have 2 SPID numbers as one is for freshwater supply and the other is for wastewater removal.


Charges for freshwater supply and wastewater removal - freshwater charges include a fixed charge for meter maintenance and a volumetric consumption charge. Wastewater charges include a fixed charge for pipe maintenance with a return to sewerage charge.


VAT is only charged when involved in chemicals, construction, engineering, manufacturing, mining, textiles and utilities. 
Compare Rates
Why Choose Power Compare To Secure Cheaper Business Water Rates?
Changing water supplier may seem like a hassle and how do you know you're securing the best business water rates? That's where we come in.  We believe our exclusive relationship with water supplier Everflow puts you in a powerful position. We bring together excellent customer service with exceptional value on your business water rates. 
Many other business water comparison services tend to make claims around being able to search the whole market, this is highly unlikely due to the growth of the industry. We focus on trusted water retailers with excellent prices and customer service. 
We know each business has unique needs and its own identity. That's how we approach our business water comparison service. We find the right price and water tariffs with the understanding that there are no cookie-cutter packages.
Instead, we listen carefully to your requirements. Then build the best deals possible – for businesses big and small.
More Reasons to Switch Water Supplier (and How To Do It)
Put simply, taking a few minutes to switch business water suppliers could be a really easy way to save money. As switching is relatively new to the water market, many companies are not aware they can switch freely. 
Customers like you save an average of £450 with our service and also enjoy better customer service and simplified billing. So how do you do it?
Simple. To get a quote in around 60 seconds from our powerful price comparison engine, all we need is your:
Business name
Company address
SPID (Supply Point Identification) number – find it on your bill
Contact details
Your Business Water Services
Check out some of the specific ways we can help reduce and simplify your business water bills.
Water Consumption
Some of the benefits of switching water suppliers with Power Compare include:
Consolidating multiple business premises on one bill to save time and money
Protecting your business with fixed-rate tariffs so you know your exact retail water rates for the next three years and budget effectively with convenient direct debit payments
Saving money on commercial water costs by taking advantage of changes that put businesses back in control. Since the market changed, reports suggest companies are enjoying business water rates savings of up to 12% - it pays to see what you could save
Waste Water
Waste water exits your business premises and enters the drains and sewerage system. The charges aren't included in your switch because it's treated as a separate service. And our experts can help you understand and manage wastewater too – it's all part of our comprehensive support service.
Get a Free Cost-Saving Business Water Audit Now
A water audit provides an overall view of your company's water use – so you know which steps to make to be more efficient and save money. If you spend over £1000 on your annual water bill and switch suppliers with us, you get a comprehensive free water audit which includes:
Usage and consumption efficiency checks
Sanitary checks
Drainage checks
Return to sewer
Water meter efficiency checks
Switch Water Supplier
UK Business Water Retailers
| | | |
| --- | --- | --- |
| | 4.5 (Excellent) | 2,000 |
| | 3.9 (Great) | 65 |
| | 4.5 (Excellent) | 21,000 |
| | 4.2 (Great) | 5,000 |
| | 4.9 (Excellent) | 11,000 |
| | 3.5 (Average) | 3,000 |
| | 1.5 (Bad) | 590 |
| | 4.6 (Excellent) | 11,000 |
| | 4.8 (Excellent) | 1,200 |
| | 4.6 (Excellent) | 5,000 |
Source: MOSL 
What Is A Water Retailer & How Are They Different From Wholesalers? 
Water wholesalers own and operate the network of pipes for specific regions. They act as wholesalers who sell supplies to retailers who package up and deliver customer service to businesses in the UK. 
Switch Water Retailer
Average UK Business Water Rates By Wholesaler
| | | |
| --- | --- | --- |
| | £1.63 | £1.86 |
| | £1.25 | £1.31 |
| | £1.64 | £1.19 |
| | £2.06 | £3.44 |
| | £1.55 | £2.23 |
| | £1.59 | £0.98 |
| | £1.71 | £1.17 |
| | £2.14 | £1.72 |
| | £1.54 | £1.82 |
Prices have been collected from Ofwat, the industry regulator. 
Business Water FAQs
Will My Water Supply Turn Off When I Switch?

No. You're only changing the supplier who manages your billing. The pipes and other infrastructure stay the same at your business premises and the supply will flow uninterrupted.

How Long Does It Take To Switch Business Water?

Usually around 28 days (including a 'cooling off' period). Remember to take a final reading before switching supplier – this helps make the whole process frictionless.

Does It Cost To Switch Business Water Supplier?

Switching itself is free. If you're leaving a contract early, you might need to pay a fee though.

Do I Get a Discount For Paying My Water Bills by Direct Debit?

Some business water retail services do offer discounts if you pay by direct debit. Ask us about this.

Can I Switch Water Suppliers If I'm Still in Contract?

Yes. You might have to pay an early contract exit fee but the savings you make might outweigh this.

What's SPID?

Business water suppliers use the SPID (Supply Point ID) to work out the supply to your business premises. It's a 10-digit code followed by a letter and you'll usually have one for your freshwater supply and another for your sewerage connection.

Which Water Company Supplies My Area?

You can find out who supplies your water by looking at a recent bill. If you cannot find one, you can search who your local supplier is through Water UK. 

How Do Unmetered Charges Work?

Some older buildings will not have a commercial water meter installed. In this case, your bill is not based on how much water you use. Typically your supplier will have a fixed charge for the business covering customer service and billing costs, with an additional charge based on the rateable value of the building. 

A rateable value is a complex calculation suppliers use to understand how much to charge you.