Best Energy Tariffs for Pensioners
For pensioners who are living on a fixed monthly income, it is important to find the best energy deal possible. If not managed correctly, gas and electricity can get expensive. Energy tariffs are also difficult to understand at the best of times. In this article, we explore the benefits of dual fuel tariffs, smart meters, and cold weather schemes to see how you can save money.
Compare energy deals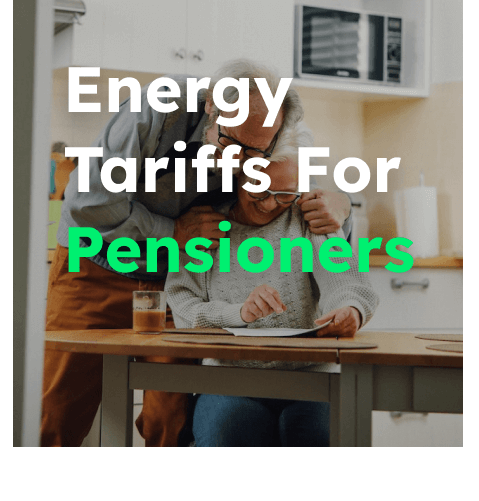 What Are the Best Energy Tariffs for Pensioners
At Power Compare, we take the confusion away from energy tariffs. There are lots of different tariffs on the market. Some tariffs are better suited to young professionals who are out of the house all day, whereas other tariffs are better for pensioners who need to maintain a consistent temperature.
Fixed Rate Energy Tariffs
Fixed-rate tariffs are ideal for pensioners who want the peace of mind that comes with locking in a price per unit. On this type of tariff, consumers can pay a consistent price per unit of gas and electricity for anywhere from one to three years.
It is important to remember that your energy bills will fluctuate from month to month. If you use more units of gas and electricity from one month to the next your bill will be higher.
Dual Fuel Energy Tariffs
Dual fuel tariffs offer consumers gas and electricity from the same supplier. Duel tariffs are one of the best energy tariffs for pensioners because they come with in-built discounts. Most suppliers will offer dual fuel customers discounts for being loyal to them.
This type of tariff is perfect for people who do not want the stress of multiple suppliers. If you ever have a problem with your energy, you only have to speak to one company. We recommend signing a dual fuel tariff with a supplier that is well known for its excellent customer service.
Direct Debit Energy Tariffs
Whereas most people pay for their energy on receipt of a bill, others pay for their gas and electricity via a monthly direct debit.
Some elderly people might feel apprehensive about setting up a direct debit. By setting up a direct debit, you can save money on your energy bills in the long run. All the big energy suppliers offer discounts to people who switch to paperless billing.
How Smart Meters Can Reduce Your Energy Bill
Smart meters are a modern solution to traditional, manual meters. They come with a digital display that tells consumers how much gas and electricity they are using. This can help manage energy bills to make sure that energy bills are not getting too expensive. If you find costs regularly getting too high, you should consider switching energy suppliers.
Gone are the days of estimated billing. These types of meters send your meter reading to your energy supplier once a month. Smart meters are ideal for pensions who do not want to manually check their energy usage.
We recommend meters for pensioners who are in their homes for most of the day. Lots of people reduce their energy consumption when they can see what they are using in real-time.
Schemes for Pensioners Who Want to Reduce Their Bills
The Government offer a Winter Fuel Payment for pensioners who are born on or before the 26th of September 1955. Eligible pensioners can receive anywhere from £100 to £300 to pay their energy tariff.
It is important to note that pensioners who get the state pension or another social benefit do not have to apply for the scheme. They will receive the payment automatically. People who do not fit the criteria should make a claim.
The government also provide eligible pensioners with a Warm Home Discount Scheme. Pensioners can receive a one-off discount of £140 on their electricity bill in the winter. The money goes directly to your energy tariff bill.
Pensioners are eligible for this discount if they also receive the Guarantee Credit element of Pension Credit or if they are on a low income. People who receive the Winter Fuel Payment can still get the Warm Home Discount Scheme.
It does not matter which energy supplier you choose. Anyone eligible for any discounts will still receive them.
How to Save Money – Compare Your Provider
Whether you are a pensioner or a young professional, you will benefit from comparing your energy supplier with others on the market. The energy landscape is constantly changing. Energy suppliers are offering a new energy deal almost daily. New suppliers are happy to offer consumers discounts on their energy tariffs in exchange for loyal customers.
The best way for pensioners to reduce their energy bills is to switch energy supplier. Put your details into our comparison site and find some of the best deals in under 60 seconds.