Compare Business Electricity Prices
Are you looking for a business electricity rate that's good for your business? Comparing business electricity tariffs has never been easier for business owners like you.
With just a few clicks and 30 seconds, you can view the latest electricity deals for businesses based on your consumption. Unlike many other business electricity retailers, you can switch entirely online.
Compare electricity deals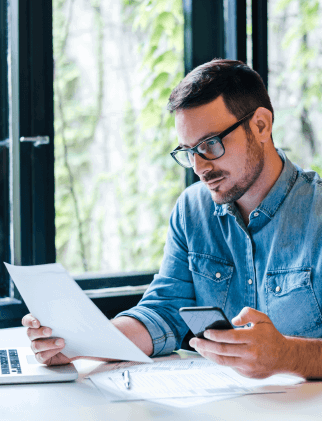 Compare Business Electricity Prices From Trusted Suppliers
Compare Business Electricity Prices To Your Renewal Quote  
Are you tempted to accept that renewal quote that's just dropped in your mailbox? Long gone are the days when it's easier to pay more and let your contract roll over. Bringing forward-thinking tech to our customers, allows us to serve those that are too busy to take care of their electricity switch within 'normal' 9 to 5 hours. The ability to switch business electricity suppliers entirely online allows you to take care of admin any time, even if you like to burn the midnight oil.  
With renewal quotes often being priced higher than the market rate, why pay more for a couple of minutes of admin? We may even be able to negotiate better business electricity rates with your current supplier so you only need to be transferred onto a new tariff.
Why Compare Business Electricity Prices? 
Despite rising business electricity prices, many company owners are fixing their rates as the future remains uncertain. As prices have been high the last few years, it could be the case that we're seeing a new 'normal' pricing level for business electricity. Nobody knows for sure, but many SMEs would like the security of a fixed prices. 
Businesses may also want to switch suppliers in search of better customer service. There are more choices for businesses and tariff prices can vary greatly depending on the size of your business and how you use electricity.
At Power Compare, we can help you find the right business electricity tariffs without the hassle. Our experts are on hand to offer advice on the best tariff types for your business. We'll also handle the entire switching process on your behalf once you've chosen the right deal for you.
To get your switch started, compare business electricity prices now.
Compare deals
Average Business Electricity Prices Per kWh December 2023
The table to the right shows current business electricity prices for 2-year contracts. Prices vary by UK region and these are the national average.
They reflect the average business electricity prices per kWh as paid by companies of various sizes (based on consumption levels). It includes the prices with and without a Climate Change Levy (CCL) of 0.583 p/kWh but excludes VAT.
Businesses were grouped based on their annual electricity consumption as follows:
Very Small – Less than 5,000 kWh
Small – 5,000 – 15,000 kWh
Medium – 15,000 - 25,000 kWh
Large – 25,000 – 50,000 kWh
Very Large – 50,000 – 100,000 kWh
Compare deals
Business Size
(Annual Usage)

Average Business Electricity Unit Price (p/kWh)

Very Small / Micro
(up to 5,000kWh)

28p

Small
(5,000-15,000kWh)

28p

Medium
(15,000-25,000kWh)

28.6p

Large
(25,000-50,000kWh)

28p

Very Large
(50,000-100,000kWh)

27.8p
Data correct as of December 2023. Annual cost based on a 2-year contract and the maximum kWh usage within each business size banding. These prices reflect a live market and are subject to fluctuation.
Are Business Electricity Rates Still Rising?
No – the numbers we've got to hand show that energy prices have been falling consistently each month for quite some time.
After looking at the three most affordable electricity tariffs for each month, there's a clear downward line with the average cheapest price falling, from almost 80p per kWh to 28.03p.
That works out at a reduction of 65%, a 51.7p per kWh unit decrease and an annual saving of almost £13,000 for a business using 25,000 kWh of electricity a year. Check out the numbers below…
| | |
| --- | --- |
| January 2023 | 57.24p |
| April 2023 | 31.21p |
| July 2023 | 29.80p |
| October 2023 | 27.93p |
| December 2023 | 28.93p |
Secure Your Electricity Rates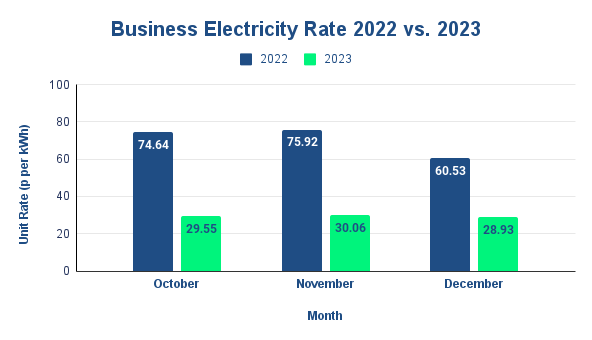 Many businesses in the UK will welcome the downward trend in commercial electricity prices. Diving into 2023, prices have stabilised at around 30p per kWh and many predictions, including from Cornwall Insight expect this to remain the case for a while. However, this is a prediction and things could change tomorrow!  
Small Business vs Micro Business Electricity Rates
According to Ofgem, a non-domestic consumer is defined as a micro business if they meet one of the following criteria:
employs fewer than 10 employees (or their full-time equivalent) and has an annual turnover or balance sheet no greater than €2 million, or
uses no more than 100,000 kWh of electricity per year; or
uses no more than 293,000 kWh of gas per year.
The main benefit of being defined as a micro business rather than a small business is that you can give a termination notice at any time during your contract which means you can always shop for the best deal.
Compare deals
Unit Price vs Standing Charge
The overall cost of a business electricity tariff is made up of unit prices and standing charges. It's important to understand the difference when comparing suppliers.
Unit Price: This is how much you pay for the electricity you use. It is charged in terms of pence per kWh. It is a variable charge, so the more you use, the more you pay. To get an idea of how much you should be paying, please see the tables at the top of this article.
Standing Charge: The standing charge is a fixed cost. Normally it's charged as a fixed price per day (although sometimes per month or quarter). The difference with the unit price is that you pay the same amount regardless of how much or little electricity you use.
And unlike unit prices, standing charges vary widely from supplier to supplier sometimes as low as 20p per day all the way up to £22+ per day.
Generally speaking, most business electricity price comparisons should focus on the unit price rather than the standing charge as this will determine the bulk of what you'll pay. However, if you do see an abnormally low unit rate it's worth your while to double-check the standing charge.
Compare deals
What Are Deemed & Out-of-Contract Tariffs? 
Unlike domestic electricity, there are no price caps on business electricity customers. This makes it crucial to have a business electricity contract in place at all times. Normally, the supplier will just roll you over onto a new contract when your old one ends, unless you take action.
Deemed rates: are what businesses taking over new premises will pay until they enter into an electricity supply contract. The amount is paid to the existing energy supplier of the premises until a contract can be arranged with them or another supplier.
The prices are very high but are never meant to be paid for long. Just be aware the deemed unit prices can easily be 150% more than in-contract rates, so there's a big incentive to switch quickly.
Out-of-contract rates: The amount charged is usually very similar to deemed rates but usually arises when a contract ends and a new contract has not been put in place. The problem with out-of-contract rates is that you may not realise you're on them unless you're checking your bill regularly.
Once again if you find yourself paying out-of-contract rates, you should either contact your supplier to be placed under contract or better yet compare prices to get a much better deal. You can sometimes save up to 60% off the rates you're paying.
Compare deals
Business Electricity Comparison With Fixed vs Variable Tariffs
There are two main types of business electricity tariff available. Some suppliers offer more complex blended contracts, but all of them will basically consist of either fixed or variable elements.
Here are the key things you need to know about both types:
Fixed Tariff Business Electricity Contracts:
Can be for as long as 5 years, although 1-3 years remains the norm
Usually fixes your unit price per kWh and standing charge for the duration of the contract (but usually does not fix CCL charge)
The price you pay per unit generally increases with contract length because of the risk of price increases
Fixed price often only applies to estimated usage, which means you could pay more if you start using more energy
Very difficult to get out of the contract early
Variable Tariff Business Electricity Contracts:
The price you pay varies based on wholesale electricity prices and can go up or down
Cheaper than deemed or out-of-contract rates
Not usually locked into a long-term contract, so can switch suppliers at anytime
Offers far less certainty than a fixed-term contract in terms of rates
Prices can sometimes be higher than fixed-term contracts
Each contract has its benefits and is down to the individual circumstances of the business. Most businesses will choose a fixed contract when they switch business electricity as it tends to be much easier to manage in terms of expected cash flow.
Larger businesses can sometimes save money using variable rate contracts if they can manage their energy usage throughout the day, but this takes quite a bit of effort and should only really be considered if your business has a Half-Hourly meter installed.
Compare deals
What Charges Are Included In Your Business Electricity Bill?: VAT, CCL, DUoS & TNUoS Charges
As you can see above, besides the wholesale price of electricity you also face a whole range of other costs here are a few of them explained:
VAT: Most businesses will pay the standard VAT rate of 20% for their commercial electricity. However, if at least 60% of your business' energy is used for domestic purposes, you are a charity or non-profit, and/or you use less than 33kWh of electricity per day (1,000kWh per month) you may be able to pay only 5%.
CCL: From 1 April 2019 the Climate Change Levy is 0.847 p/kWh for electricity. Although if you generate electricity via renewable sources you may be able to a CCL Exemption.
DUoS: Distribution Use of System charge covers the cost of maintaining the local electricity distribution network infrastructure including the cables, substations, poles, and transformers. It varies based on usage and should be clearly shown on your bill.
TNUoS: The Transmission Network Use of System charge pays for the cost of maintaining the electricity transmission network in England, Wales, Scotland, and offshore and prices are based on usage and time of year.
How to Get Cheaper Business Electricity Rates
Getting the lowest tariff on business electricity is not the easiest thing in the world but the following 10 tips can hopefully help:
Using a comparison service to view the latest business electricity rates is the quickest and easiest way to find great deals.
Know how much electricity you use each year as this makes comparisons easier and may make it easier to negotiate a discount.
Have your MPAN (Meter Point Administration Number) ready as this can also help you make a better comparison.
Consider how you pay your bill. Some electricity suppliers will offer up to a discount if you pay by monthly direct debit.
Check your company credit rating. Bad credit can mean you'll pay more for your business energy.
Look into when you use your electricity. For example, if you run a late-night business you may be able to benefit from off-peak rates for your electricity.
Look into installing renewable energy options such as solar panels or wind turbines. While not an option for many businesses, you may be able to benefit from various government schemes. Moreover, you may be able to offset future price increases.
If you have multiple business locations you may be able to negotiate a lower unit price by buying in bulk.
Look at ways to lower your overall electricity usage such as using LED light bulbs or more energy-efficient appliances. This can significantly reduce your total bills going forward.
Energy suppliers don't offer dual fuel contracts or discounts as they do for domestic customers. This means you may find it cheaper to buy your electricity and gas from separate suppliers.
To get your switch started, you can compare business electricity rates with Power Compare.
Business Electricity Rates by UK Region
The table below is a breakdown of average business electricity rates by region as a guide. This is based on 25,000 kWh of usage and a 2-year contract in December 2023.
As you can see even deemed rates can vary by up to 30% within a supplier depending on the region. Once again this shows the importance of making a comparison. It only takes minutes to compare business electricity prices and it could be the difference in saving hundreds of pounds each year.
| | | |
| --- | --- | --- |
| London | 27.3p | 55.3p |
| East Midlands | 27.9p | 72.5p |
| West Midlands | 28.2p | 79.2p |
| North West | 28.4p | 68.8p |
| North East | 28.7p | 84.7p |
| Yorkshire | 28.2p | 79.8p |
| North Wales | 30.8p | 97.2p |
| South Wales | 28.6p | 81.2p |
| North Scotland | 29.7p | 76.7p |
| South Scotland | 29.5p | 95.6p |
| Southern | 28.4p | 72.2p |
| South West | 29p | 84.4p |
| South East | 28.1p | 67.4p |
Compare deals
How To Identify Your Business Electricity Meter
When it comes to knowing what kind of meter is installed on your business' premises, it's worth knowing that, broadly speaking, there are two main types of business electricity meter.
Many businesses are using standard meters and larger businesses are using half-hourly meters. You can tell what type of meter you're on based on your MPAN (Meter Point Administration Number). This number can be found on a recent business energy bill or on your actual meter box.
If your supply number starts with a 00 you have a Half Hourly meter.
If your supply number starts with 03 you have Standard Meter.
If your supply number starts with 04 you have an Economy 7-meter
If your supply number starts with 05-08 you are Maximum Demand (MD) customer
A regulation called P272 was implemented on 1 April 2017 which means all 05-08 customers are now billed on a Half Hourly basis.
Knowing what your meter type is made comparing electricity prices much easier as not all suppliers are set up to handle Half Hourly customers. Some niche suppliers only deal with Half Hourly customers and won't deal with SMEs on 03-04 profile classes. You will need to be aware of this when you switch business electricity supplier.
Despite a push by suppliers to get all customers on smart meters, many smaller suppliers are still not set up to deal with smart meters. If you would like to remain on a smart meter, you should check that your new supplier supports them before you switch business electricity.
It could be that you need a new meter installed, we offer free business electricity meter installation in some cases.
Business Electricity FAQs
When is the best time to switch business electricity?

The best time to switch will often depend on your current business electricity contract. When you enter your renewal window, you can switch without paying an exit fee. If you're unsure when you can switch, you can find your renewal window in your business energy contract.

If you're currently on out-of-contract rates, you can switch at any time. You should compare business electricity prices as soon possible as out-of-contract rates are often some of the most expensive around.

Can I cancel my business electricity contract early?

Although it is possible to cancel your business electricity contract early, it could prove costly.

All business electricity contracts will incur an exit fee if you cancel your contract outside of your renewal window. The exact exit fee will vary from supplier to supplier. However, it is often the remaining cost of your contract.

How long does it take to switch business electricity suppliers?

Under Ofgem's Faster Switching Guarantee, your switch should take no longer than five working days once you've selected your chosen tariff. If you're new to premises or you require a new meter, the switch may take longer.

What is a half hourly meter?

Half hourly meters provide the most accurate meter readings available to large electricity consumption businesses.

Any business with a maximum demand of more than 100 kWh or greater in any 30-minute period is required to install a half hourly meter by law. If you have a maximum demand of more than 70 kWh in a half-hour period, you can also install a half hourly meter.

As the name suggests, a half hourly meter provides automatic meter readings every 30 minutes. This offers businesses the most accurate billing available as you will not be relying on estimated bills.