Commercial Meter Installation | Electricity & Gas
Looking for a commercial energy meter? You've landed in the right place. We'll ask you a few questions to make sure you're getting the right type of energy meter and our expert team will take it from there. 
We'll provide you with a clear and transparent timeline for installation, and it will usually be completed within 2 weeks. Whether you're searching for electric, gas or smart meters for business; we have the solution for you.
Get New Meter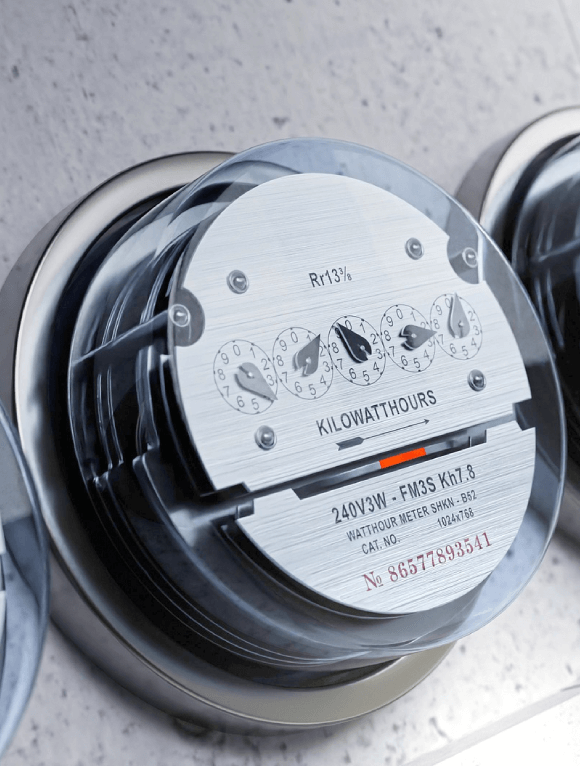 Do I Need New Commercial Meter Installation Services? 
Not always. Typically businesses require a new commercial energy meter if they're moving into new premises, the meter is no longer fit for purpose (either outdated or the business has grown to larger scales), or you're currently operating on an old analogue meter. 
It may be the case that you're no longer prepared to submit manual readings every month or forget to submit them and end up with a large estimated bill. We're here to make sure that doesn't happen.
For brand new business premises, it may not be fitted with a supply line yet. You should aim to have your new gas or electric meter installed at least one month before the connections are complete. Brand-new meter installation can take up to three months, and replacement can take around two weeks.
What Type Of Business Energy Meter Do I Need?
Selecting the wrong energy meter can cost you a lot of money. There's no one-size-fits-all when it comes to meters, so we'll ask you a few questions to understand how you use energy to recommend the best option.
Business Electricity Meter 

Managing electricity consumption can be challenging, and if not properly monitored can result in estimated billing. This can cause issues of being under charges (resulting in a high bill once the correct meter reading has been submitted) or being regularly overcharged. 

Commercial Gas Meter Installation

Installing commercial gas meters can get challenging as your Distribution Network Operator (DNO) is responsible for maintaining gas pipes. Contacting your DNO is required. When switching to a new gas contract with us, this is included in your free meter installation - you may need to pay the DNO to fit new supply lines if the property does not already have access. 

Standard Business Meter 

Standard meters are the 'run of the mill' single-rate energy meters. These will simply monitor the energy consumption of your business and charge you a single flat rate. This is not the preferred option for many businesses as this requires submitting manual readings. 

Multi-Rate Meter 

Multi-rate meters, commonly known as Economy 7/ 10, are popular with restaurants, nightclubs and manufacturing companies that operate primarily in the evenings or weekends. As you may have already guessed from the name of the meter, you will be charged different rates depending on when the energy is being consumed. These can either be two or three rates, for peak and off-peak hours. 

Business Smart Meter

Smart meters are the most popular type with small businesses. Designed to take automatic accurate readings that are sent straight to the supplier without you lifting a finger. As there have been several developments with smart meters, you may need to upgrade the meter when you switch, although this isn't always the case. Many newer smart meter models are compatible with most suppliers. 

Half-Hourly Meter 

Half-hourly meters are a legal requirement for businesses that have a maximum peak electricity demand of at least 70 kVA every half-hour. These meters submit readings to the supplier automatically every 30 minutes. 

Multi-Site Meter 

Multi-site meters are great for businesses with multiple premises who want to combine their energy bills for better management. This may unlock cheaper unit prices as the supplier will see all the buildings as one contract with higher consumption.