Business Broadband & Telecoms 
Compare. Choose. Save. It's that simple.
Business broadband has become an essential to modern trading, regardless of size. We're here to place the power to compare firmly in your hands without blowing your budget.
From specialist business telecoms packages to simple broadband, we have a solution for everyone. 
Compare Telecoms Packages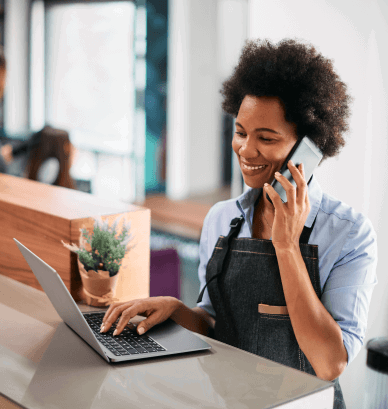 Our online engine will ask you some basic questions 

We'll have a chat about your specific requirements 

If we find the right deal for your business, we'll handle the switch
Superfast business broadband to power productivity
Long gone are the days where finding great business telecoms deals are time-consuming and headache inducing. For many businesses as basic internet connection just doesn't cut it. For those that need more power, we are here to help. 
From running missions critical applications, to safely securing customer data to protects your business from potential GDPR breaches, we have a solution for you. 
Get Started
Business Broadband
We're here to help keep your business moving. With ultra fast speeds, reliable service and 24/7 support; we have a range of cost-effective solutions that keep you ahead of the competition. 
Without boring you with the jargon, we can ensure that you will receive a reliable service capable of meeting your business goals and aspirations. From brand new connections, to switching to a faster more reliable service, lets get started today by viewing the latest deals. 
View Broadband Deals

Business Phone & VoIP
Future-proof your business with a powerful cloud-based VoIP (Voice Over Internet Protocol) phone system. Designed for businesses of all sizes, we'll help you best the last-minute rush to switch to the new system before the PSTN switch off in December 2025. 
Reliable business phone lines are essential to delivering great service to customers. We're here to make sure that your switch to the new system is smooth without losing connectivity to your customers. 
Find VoIP Solution

Business Leased Lines
Need iron-clad reliability for business-critical applications? A leased line provides peace of mind.
Leased lines cost more than regular business broadband. But, they offer much more in terms of upload & download speed, 24/7 support and options to add tech like VoIP for greater connectivity.
For example, no slowdown during peak hours and connection straight to the ISP. Businesses that would lose a significant amount of revenue with slower speeds or outages will benefit from a dedicated leased line.
Leased Line Deals

Business SIM Only Plans
Success moves with you. Compare the UK's best SIM-only mobile deals and stay connected.
SIM-only mobile plans are perfect for businesses that need more flexibility than standard pay monthly contracts phone contracts. And whether you work alone or run a truckload of staff mobiles, you win.
With exclusive deals – and flexible contracts – from the UK's top providers.
SIM Only Deals
Business Broadband & Telecoms FAQs
Which Broadband Deal Is Best For Me?

It depends what your business uses the internet for. These days, you can find reasonably cheap deals on superfast broadband. But you might want to pay a little extra for a leased line if you need extra bandwidth for lots of users, elite-level uptime and hands-on 24/7 support.

What's a Good Internet Speed For My Business?

100 Mbps for a small business with basic requirements. 500 Mbps is better for a medium-sized office where people send lots of emails with attachments and need regular access to cloud apps.

What's a SIM-Only Deal?

A SIM-only deal covers the service, but not the device. You get a package that includes a certain number of minutes, texts, and data. But it's cheaper than a regular contract because you supply your own phone.

What's VoIP?

VoIP is Voice over Internet Protocol. It's an economical service that lets you use the internet (instead of traditional phone lines) to call people.

My Team's Moving to Remote Working. Can You Help?

Definitely. We make sure that every employee has the tools they need to keep customer service smooth and work confidently and collaboratively.

Is VoIP Reliable?

VoIP phone systems are reliable and typically faster than traditional landlines. 

This makes them a better choice for businesses that need to keep their customer service running smoothly.

Is VoIP Expensive?

VoIP phone systems are mostly cheaper than traditional lines. With much lower international costs as well as local. 

Due to the nature of VoIP, these systems can be quickly upscaled as your business grows. 

Is VoIP Secure?

VoIP phone systems are as secure as traditional systems if a businesses IT infrastructure is secure. 

Do I Need Fast Business Broadband For VoIP?

It is recommended that you have fast business broadband to manage the demand of a VoIP phone system. On average, you will need at least 90 kbps per handset. 

What Is The PSTN Switch Off?

We've all been using the Public Switch Telephone Network since the 1800s. 

As the world has developed, so has technology and the demands we place on it. 

This means we take the next steps towards a more digital communication called Internet Protocol (IP). Every phone line will be moved to IP as PSTN is being switched off in December 2025. 

What Is PSTN Stop Sell?

Stop sell has already started. This means that BT Openreach will not accept any new order requests for old traditional PSTN systems as we get ready to move over to IP.